The Risk Migration Analysis System
The Risk Migration Analysis system provides a powerful and intuitive tool for performing risk migration analysis - delivering compelling benefits to financial institutions. It provides four primary functions to enable credit risk migration analysis.
The system includes a robust utility for the periodic update of loan data in the portfolio. It accepts comma delimited files from source systems to populate the database with historical loan transaction data.

Users define pools within the portfolio by applying dimensional filters (e.g., Vintage Date, Customer, SIC, Collateral Type, etc.) to the portfolio of loans. Loan details can be viewed by date and exported to a report.

The system provides a simple and flexible process for performing Historical Migrations (using a dynamic flow model) and predicting Expected Loss (using a Markov Chain). Migration results are reported for the pool with underlying loans and obligors identified for every rating migration through a drill-down report.

Risk Migration reports are exported to MS Excel and/or MS Access.
Reports
Reports can be accessed with standard desktop tools (e.g., MS Excel and MS Access). This enables end users to customize report formats and extend standard system reports with add-on calculations and graphics. Several pre-formatted Excel reports are included with the Risk Migration Analysis system.
Historical Migration for a Commercial Portfolio Historical Profile for a Specific Risk Rating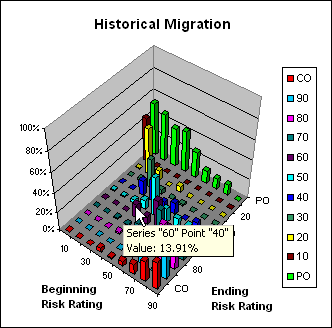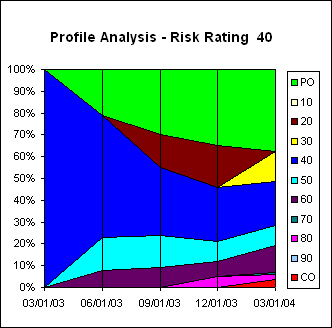 Drill-Down Report for a Specific Ratings Transition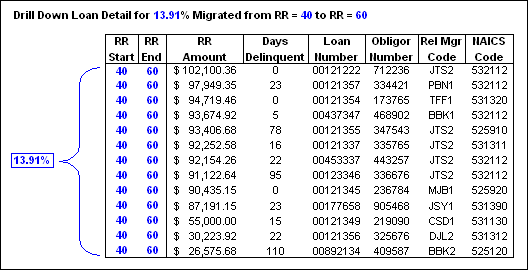 Delinquency Migration for a Retail Portfolio Subset (Dynamic Flow Model)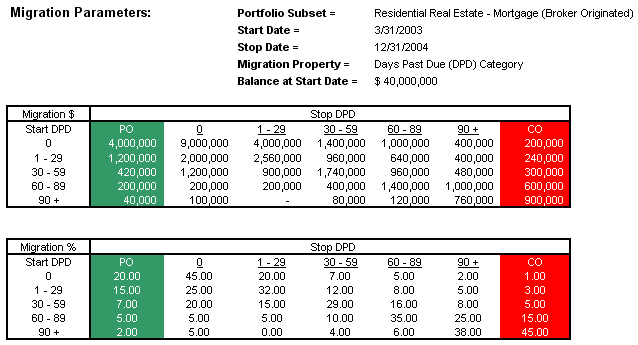 Input Data
The system employs a historical database built using data extracted from the loan accounting system. Intricate to the build process is a series of robust and powerful rules ensuring the quality of the data used to perform migration analysis.
Migration Metrics Technology
The Risk Migration Analysis system was designed and built by a multidisciplinary team that included experts in credit quality, migration analysis, data movement and database compression technologies.  A standard implementation runs on a MS Windows-based server and is accessed through a secure browser interface.  The system is built entirely in Java – making it platform independent. The thin-client user interface provides access via standalone or networked configurations.
Contact us for additional information on Migration Metrics Products and Services.